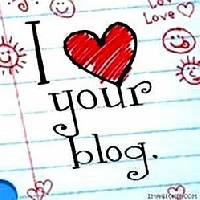 I swap with Swap-bot!
I'm a member of an online group called
Swap-Bot
where you can sign up to "swap" things. Mostly it's stuff you send in the mail like letters & postcards, but occasionally there are e-swaps.
I am participating in one right now called "I 'heart' Your Blog!" I will be reviewing 7 blogs from my partners and sharing them with you. Since the swap's instructions were very vague and confusing, I'm actually review all 14 of the blogs for both my receiving and sending partners.
The first set are my send-to partners who are supposed to be rating me on my review and including a link back to their blog. The second set are those who I'm supposed to be rating.
Enjoy!
========================================================
Blog #1: Santity's Overrated
By PsceanMama from Tennessee
According to the author, her blog features, "
A little of this, a little of that, from a half-crazed stay-at-home mom of two boys."
It's entertaining to read about a variety of things are are interesting to her. I've got to admit, the background of books is perfect for her most recent post about reading & watching
The Five People You Meet in Heaven
.
Blog #2: Memories Through Quilting
By AlteredArtFreak from Oklahoma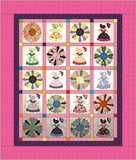 This blog features her quilting creations. Oh how I wish I could quilt, too! I must say that the background is incredible for this blog. So amazing!
Blog #3:
El Blog de Jex
By Jex from Mexico

I love that Jex provides tutorials and links about crafty things beyond just shooting the breeze. It's a helpful and fun site. I especially like all of her links for "pimping your blog." I think I'll be visiting a few of those links in the near future...
Blog #4:
Rachel's World

By scrapkween from Texas

I love how she talks through some of the challenges in her family's life as well as the triumphs. Her description of homeschooling her children is refreshing and honest. There are many little tidbits to take away from this special blog.
Blog #5:
The Sweet Maple Life
By SilverHealer currently residing in Virginia, but trying to permanently reside in Canada
It's sweet to see how she features her different creations. I am always impressed by the creativity of others. I like how she signs each blog entry with her name. So classy. And I can definitely relate to how she feels about Canada. It just feels like home, which is the same way I felt about the first time I was in Cambodia.
Blog #6:
Miss Muff Cake
By missmuffcake from California
"Veganism and crafting from a not so big city perspective." Skulls, skulls and more skulls. While personally not a fan of skull images, they are certainly more popular today by a adding a more whimsical look to them. I really love her "Peanut Butter Plan" as it reminds me of the Friday nights I spent handing out brown bag lunches to the folks living on the streets of downtown Santa Cruz. Very courageous, yet so inventive! You go, girl!
Blog #7:
What Oh What!
By ilovetubby from Oklahoma
Such an adorable tutorial on the homemade, no-sew pincushion. Also, her step by step photos of her craft projects are really helpful. I already know how to redo the seat cushion in a chair (Thanks Dad!), but I'm sure there are lots of folks who appreciate this helpful how-to. She also has a great selection of craft links that looks very promising.
========================================================
Here are the ones that I am rating about their review of my blog.
Blog #1:
Keeping up with the Joneses
By ksj1717
Such a variety of different topics presented on this blog. It's fun to go from crafts to the home garden within a couple of posts. I look forward to reading what comes next in her life.
Blog #2:
Random Adventures by Hippofairy
By hippofairy from California
Random adventures sums up this blog fairly accurately. Though the statistician in me would disagree with the random part because adventures that are planned wouldn't technically qualify as random. I digress... It is entertaining to read her narration of the events and see the pictures of some of her creations. I would definitely follow this blog.
Blog #3: CF

By cfchai of Singapore
A cute little blog that reminds me a of a personal diary/calendar, but with a little bit more details for certain dates.
Blog #4: Hedgehog and Rabbit


By Brooklyne


Brooklyne's blog features mostly the results of her Etsy shop as it is promoted in various treasuries by other Etsy folk. The design is adorable and references to her family members is cute, too. Now I'm curious to check out her
Etsy
shop to see what handcrafted items are there. Her shop features handmade wallets, brooches and embroidery doodles.
Blog #5:
Butt Naked Woman's Little Room of Crafty Wonders
By myeow from Singapore
It's always fun to have a window into another part of the world. Myeow does this well by showcasing the craftier side of Singapore in her blog. I'll make sure I connect with her before I next head off to Singapore. Her crafty creations are so sweet, too!
Blog #6: Riechanster

By Riechan from Belgium
A very lovely blog detailing her adventures in shopping and other activities in Belgium. The pictures are always a great addition to help the readers relate what she writes about.
Blog #7: Rock n' Roll Stops the Traffic


By Lima from Italy
This blog features a lot swaps that she's participated in, as well as some of the various events in her life. It's fun to read about her new crafting experiences and see the results.